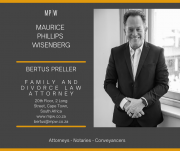 MEMBER SINCE
2010
Firm
Bertus Preller & Associates Inc.
Suburb
Cape Town | Map
Address
Ground Floor, The Chambers, 50 Keerom Street, Cape Town, 8001, Western Cape
Languages
English, Afrikaans (in order of proficiency)
Email
Tel
021 422 2461
Cel
0834439838
Website
www.divorceattorney.co.za
DOCEX
Qualifications
B.Proc; Adv. Dip LLaw


Years of Service
25
Position in Firm
Attorney
Courts most familiar with
Cape Town, Pretoria, Johannesburg, Bloemfontein



>Services
Attorneys Fields of Specialization: Divorce law, divorce mediation, maintenance, parenting plans, family law, children's rights, domestic violence interdicts, custody applications, matrimonial
| | | |
| --- | --- | --- |
| Access to Children | Adoption | Childrens Rights |
| Constitutional | Contracts | Copyright |
| Criminal | Custody | Deceased Estates |
| Divorce | Divorce Mediation | Family Law |
| Fostering | High Court Practice | Human rights |
| Information Technology | International Child Abduction | Internet Law / E-Commerce |
| Litigation (High Court) | Litigation (Magistrates Court) | Maintenance |
| Matrimonial | Same Sex Rights | Sexual Harassment |
| Wills | | |
Other Services:
Areas of expertise are access, adoption, biological fathers' rights, grandparent's rights, divorce (uncontested & contested), divorce mediation, divorcing a missing spouse, same-sex and other non-marital life partnership agreements, parenting plans, maintenance and antenuptial agreements.
Latest News & Views
Bertus Preller writes South Africa's first book on divorce and Separation:
Everyone's Guide to Divorce and Separation
With one in three marriages now ending in divorce, it is imperative to be informed of the pitfalls, challenges and legal aspects involved in divorce and separation. Other rules and laws may apply to the many couples who prefer to cohabit rather than get married, but they, too, need to be informed of their rights when the relationship breaks down.
Everyone's Guide to Divorce and Separation will help with the following crucial aspects:  your rights when you get divorced, and the monetary aspects relating to divorce (including the consequences relating to assets and the divisions thereof); maintenance issues;  all factors regarding the children, including how to implement a parenting plan, how much child maintenance will likely be required, and how to file for maintenance and child support;  the procedures to obtain a protection order when there is domestic violence or abuse; an unmarried father's rights and how to acquire parental rights; and the law on cohabitation, same-sex marriages, and how to draft a proper cohabitation agreement. 
Everyone's Guide to Divorce and Separation will prove to be an indispensable and comprehensive guide at a time when everyone needs expert guidance the most.
In the Foreword of the book, Judge Denis Davis says the following:
"Bertus Preller has filled a very significant gap with this timely book, in that in plain language, he provides a comprehensive guide to the broader community through the thicket of law that now characterises this legal landscape. Having said that, many lawyers, particularly those who do not specialise in the field, will also find great assistance in this work.
From engagement, through the legal nature of the ceremony, to the legal consequences of marriage or civil union and on to divorce with all its complex consequences, the reader will find clear explanations for any or all issues which may vex him/her during this journey.
Early on in the text, Mr Preller makes a vital point – litigation is truly the option of last resort in the event of a matrimonial dispute. The adversarial process which is the manner in which law operates is not at all conducive to a settlement of issues, particularly custody of minor children, which have a long-lasting and vital impact on the lives, not only of the antagonists but also the children who have not, in any way, caused the problem giving rise to the forensic battle.
Often in my experience on the Bench, I have wondered how such vicious and counter productive litigation can be allowed to continue. Lawyers will point to clients, whose disappointment in the breakdown of the marriage now powers such adverse feelings to their erstwhile partner, as the core reason for the 'legal fight to the finish'. I would hope that, in all such or potential cases, the parties consult this work, which may add some rationality to the process or, in the occasional case, will enable the parties to reassess the legal advice they have been given, thereby allowing a non-litigious settlement of proceedings.
Whatever the context, however, it is important that arcane and often incomprehensible legal jargon be made accessible to those affected by the law. In this way, ordinary citizens can ensure that their rights work for them and at the same time they are assisted to grasp fully the implications of the obligations that the law imposes upon them.
In providing such a gateway to those who are or may be affected by this area of law, which given its nature is the vast majority of the country, Mr Preller has made a significant contribution to ensuring that, in this area, access to justice will become a reality.
- Judge Dennis Davis"
Experience
Bertus Preller is a Family and Divorce Law Attorney and Mediator at Bertus Preller & Associates Inc., in Cape Town. Bertus matriculated at Grey College, studied at the University of the Free State and the University of Johannesburg and was admitted as an attorney in 1989. He specializes in Family Law and Divorce Law and attends to divorce and family law cases across South Africa. He has extensive experience as a mediator and was appointed as a part time mediator and arbitrator in 1996 by the CCMA. Bertus is the author of Everyone's Guide to Divorce and Separation, published by Random House. He has also been quoted on Family Law issues in various newspapers such as the Sunday Times and Business Times and magazines such as Noseweek, Keur, Living and Loving, Longevity, Woman and Home, Women's Health, You, Huisgenoot and Fairlady and also appeared on the SABC television show, 3 Talk, Morning Live and on the 5FM Breakfast show with Gareth Cliff. His clients include artists, celebrities, sports people and high net worth individuals. 
His areas of expertise are Divorce Law, Family Law, Divorce Mediation, Parenting Plans, Parental Responsibilities and Rights, Custody (care and contact) of children, same sex marriages, unmarried fathers rights, child abduction and Hague Convention cases and domestic violence matters and international divorce law.
Blog: http://www.divorceattorneys.wordpress.com
Web: http://www.divorceattorney.co.za
Facebook: http://www.facebook.com/divorceattorneys
Twitter: http://www.twitter.com/bertuspreller
Book: http://www.divorcelaws.co.za
Mediation: http://www.familylawmediators.co.za
About Firm
Bertus Preller & Associates Inc. is a boutique Family Law firm located in the heart of Cape Town's Legal District. In 2015 the firm was voted Family Law Firm of the year by the ACQ5 Global Finance magazine.
The capable and highly motivated family law team constantly strive to maintain the highest standards the firm is known for and to ensure that  Bertus Preller & Associates continues to be one of the most reputable Family Law firms in South Africa.
Business Practices
Attorney Average
Hourly Fees

R1000+
Please request a quote for exact amounts.
Please note that this is an indicative rate and may vary according to task.
Number of Qualified Attorneys
3
Number of staff in firm
6 - 10
Date Firm Established
2006
Other Branches of this Firm
Please be sure to mention that you found this
Attorney
on www.findanattorney.co.za!